Middle School Outreach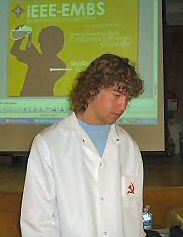 Introducing Biomedical Engineering to Middle School Students
Our chapter has introduced biomedical engineering to students in middle school through an entertaining road show. We had planned to present medical tools that the students are already familiar with, and explain the role engineers play in designing them to help people. We have now presented the program to over 400 middle-school students in southern California. The presenters are students from the Cal Lutheran student chapter of IEEE-EMBS.
Why Middle School?
Middle school students are intellectually curious, and advanced enough to understand basic engineering and scientific principles. The 7th grade curriculum is particularly appropriate, as it focuses on physiology, anatomy, and the scientific method.
Middle school students are energetic and fun, and we hope to harness that sense of enthusiasm through our roadshow.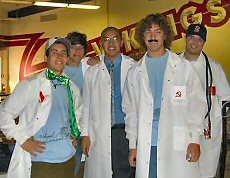 Course Materials
Through the efforts of our chapter officers, and collaboration with students at California Lutheran University's Bioengineering Program, we've developed the following materials for the Middle School Outreach:
The lesson is about 45 minutes long, combining didactic, interactive, and hands-on elements. To make the lesson more tangible, we've purchased a BioPac Science Lab kit to display the students' own ECG signals.
So far, we've received an enthusiastic reception from school district officials.
They've been impressed with:
the degree of preparation of the lesson plan and the presentation,
the partitioning of the proposed sessions in to didactic, interactive, and hands-on parts
the involvement and leadership of CLU bioengineering students
the fact that we had anticipated their needs in designing this to fit within a 45-minute period
that this was so well aligned with the 7th grade curriculum,
that weneed so little advance prep from the teachers
In August, 2007, results of the Outreach program were presented at the IEEE-EMBS meeting in Lyon, France. Here is the presentation
In November, 2007, after a number of presentations to local middle schools, this effort received positive coverage from the local press.
In May, 2008, this effort was featured on the Amgen Staff Volunteer Program and IEEE Foundation web sites.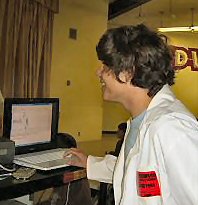 This effort supported in part by a grant from the IEEE Foundation