Daily Monitoring of Health Metrics Reduces Health System Costs

Wednesday, October 25, 2017 7 PM
CLU Gilbert Sports and Fitness Center, 130 Overton Court, rooms 253/254 (second floor)
Early detection of abnormal deviations in patient's vitals and continuous recording of the health metrics can enhance the clinical decision-making process and prevent the unnecessary hospitalizations. Overall cost of the health system will be reduced by involving people in monitoring their daily metrics and sending immediate feedback to the health care providers to deliver proper treatment and medication, and recommend the physical activities for prevention and treatment.
Neil Friedman, Darlene Arbeit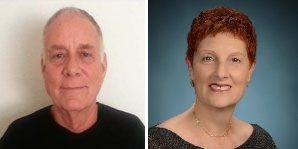 Neil Friedman, COO and co-founder of BodiMetrics. In 2005, Neil formed the "Cookie Congregation" and addressed the problem of obesity in the African American community in their churches. In 2002, Neil sold a technology for the customization and individualization of hair coloring products. This technology was sold to the Aveda Corporation. In 2001, Neil founded Garden of Hope, a cause-related marketing company which raised several hundred thousand dollars in support for the "City of Hope Breast Cancer Research". In 1997, Neil co-founded AgIon Technologies, LLC. Neil served as Vice Chairman of Agion until 2002 when it was sold to Paladin Venture Capital. From 1994 - 1997 Neil founded and was chairman of Top Green International Ltd, which operated over 2400 franchises of TCBY, in Hong Kong and the People's Republic of China. In 1979, Neil founded Segue, Ltd., a private label manufacturer and importer of women's apparel. Neil served as Chairman and CEO of Segue until 1995, Segue was sold to the Hampshire Group, Ltd (NASDAQ:HAMP). From 1971 to 1978, Neil was VP of Arpeja of California (was listed on NASDAQ) a women's apparel firm. Neil Friedman studied business at the University of Cincinnati.
As chief operating officer (COO) of Alive Sciences, Darlene Arbeit guides the innovative Sarasota company dedicated to helping individuals, families, and healthcare organizations identify warning signs of health problems, manage chronic conditions, and enhance personal wellbeing. At Alive Sciences, Arbeit focuses on the importance of taking a proactive approach to wellness and health care using tools like mobile devices and the Rothman Index, which empowers individuals by providing an easily understood health score for monitoring changes in conditions. Prior to joining Alive Sciences in 2014, Arbeit was chief executive officer (CEO) for The Jewish Housing Council with management responsibility for its retirement community. Arbeit has more than 30 years of experience in the geriatric and health care fields and maintains numerous professional credentials. She served as a member of the Assisted Living Facility Policy Committee, State of Florida Agency for Health Care Administration; and was appointed by Governor Scott to the Assisted Living Workgroup. She also serves on the executive board of Leading Age Florida. Arbeit earned her bachelor's degree in education at the University of New Orleans, and a certification in health systems management from Tulane University's School of Public Health. She was a teacher for special needs children before entering the long-term care industry.