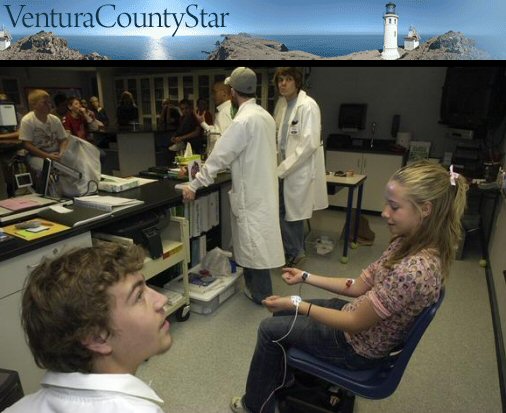 Photos by Jason Redmond / Star staff
California Lutheran University science major Thomas Estus, left, watches a projection of student Carson Cute's heart rate graph during a visit to Sycamore Canyon School in Newbury Park on Monday.
When seventh-graders showed up for science class Monday at Sycamore Canyon School in Newbury Park, they came across five college students dressed in white lab coats, bright red liquid bubbling away in a flask at the front of the room, and a pitch to think about science as a career.
The five college students, all science majors at California Lutheran University in Thousand Oaks, are part of the Middle School Outreach Program, aimed at getting kids excited about math, science, medicine and engineering.
"We just want to hit them while they're young," said Corey Russo, a senior at CLU. "We try to keep it exciting. We reach out to them and help them when they're becoming who they're going to be in life."
The need for scientists is growing not only nationally, but locally also, said Mike Shaw, a CLU professor and adviser to the group. To fill that need, scientists need to reach out to more female and minority students, he said.
"Right here in Ventura County, we're surrounded by a host of world-class businesses that badly need intelligent, trained people to join their ranks," Shaw said. "There's some real lack of diversity in scientific fields. We need to knock those barriers down because everyone has something to contribute."
The group's members are seniors Russo and Joshua Lee, juniors Gregory Johnson and Stephen Roberts and sophomore Thomas Estus.
The five are part of a larger professional group, the Engineering in Medicine and Biology Society. Last year, the society gave the group a $10,000 grant to put together their school presentation, which focuses on defibrillators.
That might sound a tad dry, but they kept things lively by showing images of a human heart, throwing out statistics about how many barrels of blood a heart pumps in a year (9 million) and asking plenty of questions.
They also played the roles of engineers who developed and refined defibrillators over the years, even speaking in the Boston, Russian and Irish accents of their characters.
Then they hooked several kids up to an EKG. The idea was to compare heart rates for a kid who had just done jumping jacks or pushups against one just sitting in a chair.
Later they talked about how they got interested in science and about the research they're now doing.
Their approach seems to work. Last year, the group did two or three shows. This year, they have one booked every month.
Still, when the students of one class Monday were asked how many were interested in science, only two raised their hands.
One was Andrew Clements, 12, who wants to be a biomedical engineer when he grows up because he wants to "make medical advances that can save people's lives."
Andrew may already be convinced that science is cool, but he still enjoyed the presentation.
"It was fun," he said. "It was very informative, but in a good kind of way."